In this guide, we'll explore everything you need to know about these fantastic gift cards and why they make the perfect gift for LEGO enthusiasts.
Three Reasons to Choose a LEGO Gift Card
LEGO Gift Cards offer multiple advantages that make them a perfect gift for collectors and lovers of colorful bricks! Here are three main reasons why you should consider purchasing a LEGO Gift Card:
Let the recipient choose their favorite sets: One of the best things about LEGO is the vast range of sets available. Every enthusiast has their own preferences, and giving a LEGO Gift Card allows the recipient to choose exactly what they want to build!
It's straightforward: no hidden fees or shipping costs: When you buy a LEGO Gift Card, there are no hidden costs. The card's value is exactly what the recipient will receive, with no unpleasant surprises.
Send it directly to the lucky recipient: You can send these cards directly to the recipient via email, simplifying the gift-giving process! Alternatively, if you prefer, you can receive it yourself, print it, and hand-deliver it… perhaps after wrapping it!
Denominations and Details of LEGO Gift Cards
LEGO Gift Cards are highly customizable. You can choose the card denomination, ranging from a minimum of €10 to a maximum of €400, in multiples of €5. This allows you to tailor the gift to your budget and the recipient's needs.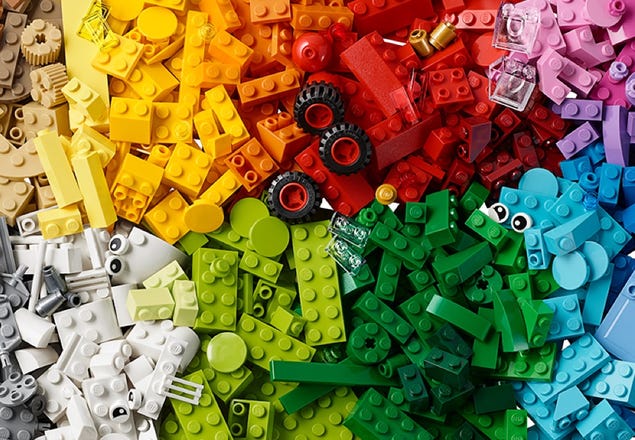 Frequently Asked Questions (FAQ) about LEGO Gift Cards
If you still have some questions about how these Cards work, here are answers to some common questions:
What is an electronic LEGO gift card?
An electronic LEGO gift card is a digital voucher that can only be used on LEGO.com. It can cover the entire purchase cost, including shipping fees and taxes.
Do gift cards have an expiration date?
No, except where required by law. As long as there is a remaining balance, the LEGO gift card does not expire!
What is the maximum value of an electronic LEGO gift card?
In many countries, the maximum value is €400. However, in others, like Germany, it can go up to €500.
Are electronic LEGO gift cards reloadable?
No,they are not reloadable.
Where can an electronic LEGO gift card be used?
The gift cards can be used on LEGO.com and for phone orders but not at LEGO Stores or third-party retailers.
How do you redeem an electronic LEGO gift card?
To redeem an electronic LEGO gift card on LEGO.com, simply enter the card number and PIN during checkout.
How long does it take to receive an electronic LEGO gift card?
Typically, you receive an electronic gift card via email within an hour!
What should you do if you don't receive the electronic LEGO gift card?
In case of issues, consult with the recipient and make sure the email isn't blocked.
.
In conclusion, LEGO Gift Cards are the perfect gift for those who love to build and collect these iconic bricks. Customizable, easy to use, and available in various denominations, they are the ideal choice for making your LEGO-loving friends and family happy! So, what are you waiting for? Make someone's day with a LEGO Gift Card!
Nerver miss a LEGO Deal: join our Telegram Channel for FREE!
Every day we scrape the web looking for the best LEGO offers, but sometimes the best sales may end quickly.
By subscribing to our free Telegram Channel you will receive a notification every time there is a LEGO deal, so you can be sure you never miss one!
Join NerdCube on Telegram
Don't forget to subscribe to our NerdCube Telegram Channel and to follow the news section of this website, to stay updated on the latest news, promotions, and exclusive LEGO discounts!